Melancholischer Pianopop in Bestform: When 'Airy Met Fairy kündigen mit "Blanket of Sorrow" neues Album an
Dienstag, 3. Dezember 2019 | By
Peter
| Category:
Neue Alben
"There's a frosted beauty to the song, matching their melodic nous to an ability to utilise this in a frank, refreshing way." – Clash
"When 'Airy Met Fairy produce deeply atmospheric and heartwrenchingly beautiful music" – Line of Best Fit
"Reminiscent of Radiohead's slower work in its simple splendor and lyrical resonance"– Atwood Magazine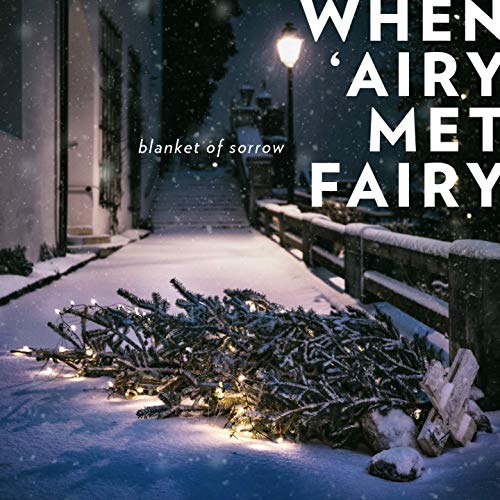 Mit einer feinen Melodie und minimalistischen Instrumentierung ist "Blanket of Sorrow" melancholischer Pianopop in Bestform. Frontfrau Thorunn Egilsdottirs Gesang fühlt sich intim und verletzlich an, wenn sie durch beißendkalte Soundlandschaften und anschwellende Horn- und Orgel-Arrangements gleitet.
An Weihnachten geht es darum, Zeit mit Familie und geliebten Menschen zu verbringen, es ist eine Zeit, zusammenzukommen und sich mit besonderen Menschen in unserem Leben wiederzuvereinen. Aber dem warmen und vereinenden Wesen zum Trotz kann es das Fehlen von jemanden nur noch deutlicher machen. "Blanket of Sorrow" fängt dieses sich verfestigende Gefühl von Sehnsucht und Traurigkeit ein – die Festtage haben sich nie so einsam angefühlt.
Thorunn: "I felt like this last Christmas when I was celebrating with my family in Reykjavik. I sat down at the piano. It was in a dark room, illuminated by the glowing snow outside. There was no sound in my brother's house as everybody had gone outside for a walk. And there it was; Blanket of Sorrow. The melody, the lyrics, as if they had always existed.
Bassist Mike Koster: "When we record songs, we do it in my apartment. We like homemade stuff and we like it simple. "Blanket of Sorrow" is a particularly delicate song, so we added merely the necessary. The organ and the bass are the only ornaments around Thorunn's voice and piano lines."
Äußerst sehenswert ist außerdem das begleitende Musikvideo, das von Raphael Kindig und Runa Egilsdottir (Thorunn's Schwester) produziert wurde. In einem Halb-Museum – einem Haus, das seit den 1970ern komplett unverändert ist – gefilmt hat der Clip einen nostalgischen Blick auf ein unglückliches Paar, das Weihnachten "feiert". Das Video ist am 02.12. als exklusive Premiere beim Clash Magazine erschienen.
Quelle: Motor Entertainment GmbH