VAN MORRISON: Gemeinsames Album mit Joey DeFrancesco erscheint am 27. Apri
Donnerstag, 8. März 2018 | By
Peter
| Category:
Top News
"You're Driving Me Crazy" ist der Follow-Up zu Van Morrisons letztjährigem Jazz-Album "Versatile" und wird als CD und Doppel-LP erscheinen. Eine 7 Inch Single mit dem Van Morrison-Song "Close Enough For Jazz" und einer großartigen Aufnahme des Guitar Slim-Stücks "The Things I Used To Do" erscheint anlässlich des diesjährigen Record Store Day am  21. April.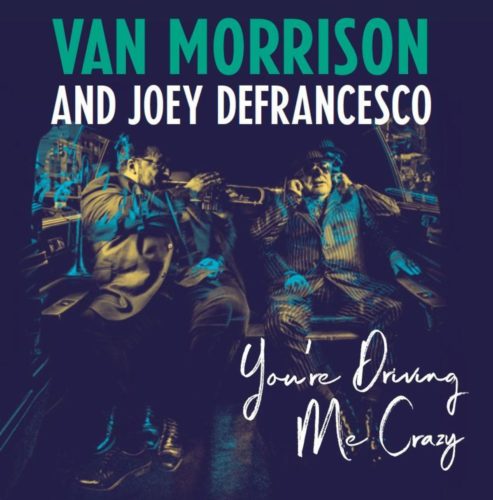 Auf "You're Driving Me Crazy" finden sich neben Versionen einiger großer Blues- und Jazz-Standards und –Klassiker ("Miss Otis Regrets", "The Things I Used to Do", "Every Day I Have The Blues") auch einige neue Interpretation von Liedern aus dem Repertoire des legendären irischen Sängers und Songwriters, darunter "Have I Told You Lately", "The Way Young Lovers Do" und "Magic Time". Der Longplayer entstand in einer Zusammenarbeit mit dem Trompeter und Organisten Joey DeFrancesco und seiner Band, darunter Dan Wilson (Gitarre), Michael Ode (Schlagzeug) Troy Roberts (Tenorsaxophon). Der 1971 geborene DeFrancesco unterschrieb seinen ersten Plattenvertrag bei Columbia Records im Alter von sechzehn Jahren, trat u.a. mit Größen wie Miles Davis, John McLaughlin und Grover Washington, Jr. auf und war als Bandleader mit dafür verantwortlich, dass der klassische Hammond-Orgel-Sound in den späten Achtziger ein Comeback in der Jazzmusik feierte.
In den vergangenen eineinhalb Jahren war Van Morrison extrem aktiv: der 72-jährige veröffentlichte im Herbst und Winter 2017 mit "Roll With The Punches" und "Versatile"seine Studioalben Nummer 37 und 38. Mit "Roll With The Punches" erreichte er zum zehnten Mal die Top Ten der britischen Charts, in Deutschland kletterte das Album bis auf Platz fünf. "Versatile" kam auf Platz eins der Billboard Jazz Charts.
Die Welt des Jazz war für den Grammy-Preisträger schon immer eine große Inspirationsquelle, bereits an der Entstehung seines 1968er-Meisterwerks "Astral Weeks" wirkten Jazzmusiker wie Connie Kay, Jay Berliner und Richard Davis mit. Auf Konzertbühnen und im Studio spielte Van Morrison mit Jazz- und Bluesmusikern wie John Lee Hooker, Ray Charles, Mose Allison, Bobby Bland, Solomon Burke, Jeff Beck, Georgie Fame, Robbie Robertson, Freddie Hubbard, Chick Corea, Herbie Hancock, Maceo Parker und Candy Dulfer.
Jazz Organist, Trompeter und Sänger Joey DeFrancesco veröffentliche in seiner Karriere bislang mehr als dreißig Alben und war für mehrere Grammys nominiert. Er spielte u.a. mit Miles Davis, Jimmy Smith, Ray Charles, Bette Midler, David Sanborn, Arturo Sandoval, Larry Coryell, Frank Wess, John McLaughlin, Danny Gatton und Elvin Jones.
Neunmal gewann er den "Down Beat Critics Poll" (Orgel) und seit 2005 jedes Jahr den "Down Beat Readers Poll". Er wurde mit einigen JazzTimes Awards ausgezeichnet und ist einer der ersten Mitglieder der "Hammond Hall of Fame".
"You're Driving Me Crazy" Tracklisting:
1. "Miss Otis Regrets" (Cole Porter)
2. "Hold It Right There" (Terry, Grey, Vinson)
3. "All Saints Day" (Van Morrison)
4. "The Way Young Lovers Do" (Van Morrison)
5. "The Things I Used To Do" (Eddie Jones)
6. "Travellin' Light" (John Mercer, James Mundy, James Young)
7. "Close Enough For Jazz" (Van Morrison)
8. "Goldfish Bowl" (Van Morrison)
9. "Evening Shadows" (Van Morrison / Acker Bilk)
10. "Magic Time" (Van Morrison)
11. "You're Driving Me Crazy" (Walter Donaldson)
12. "Every Day I Have The Blues" (Peter Chatman)
13. "Have I Told You Lately" (Van Morrison)
14. "Sticks and Stones" (Titus Turner)
15. "Celtic Swing" (Van Morrison)
Quelle: Sony Music